Please tell me you have seen this movie...play...!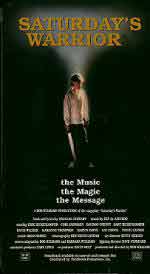 I was raised on this movie. And cassette tape. And then CD. Seriously.
We have a home video when we were house hunting when I was little
Deej
& I were in the backseat, my dad was driving & mom was filming our future home. What is that I hear in the background? Oh, that's right, the Saturday's Warrior soundtrack. You could say I'm obsessed. I know every word to that entire thing. My husband has never seen it. Or heard it. I sing words to him to the tune of Saturday's Warrior though. Thanks to mom & dad! Most of my sing-a-longs go to the "Jimmy, oh, Jimmy, don't listen to them!" song. Last night we were at his parents house and I was singing something along the lines of, "Husband, oh, husband don't leeeeave me," Papa Dave yells from the other room "WHAT'S THAT FROM" hahahahah I didn't know anyone could hear me. "Uh... Saturday's Warrior..." "YES!" hahaha Wes was just plain out of the know. Usually when I sing to them he looks at me with a blank stare as I dance around his dumbfounded expression singing about growing noses, dozens of friends, and sailors.
Yes, Sydney & I have sung all the way straight through this musical together.
Yes, I have the piano music to this song. Yes, I ordered it online in high school.
Yes, I play it.
xoxoI'ddieforyouJimmy!Dieforme?Oh,Emily!