"In the regular world, Halloween is when children dress up in costumes and beg for candy. In Girl World, Halloween is the one night a year when a girl can dress like a total slut and no other girls can say anything about it."
-
Cady Harin
, Mean Girls
And then there was Syd and me. We definitely broke that stigma. We hit a few halloween parties and covered basically all of Provo. Everywhere we went there were echos of "Thing 1.... Thing 2...."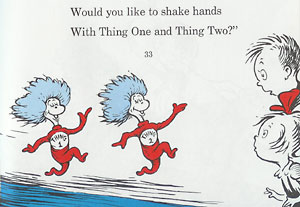 Highlight (#1) of the night: we were standing outside one of the dance party's and it was SO crowded and a guy used us as a landmark. I am not even kidding. He was on the phone and I heard him say "Yeah, I'm over here by Thing 1 and Thing 2." Ha! I go, syd that kid just used us as a landmark, it was hilarious. So even out here in probably the most conservative place you'll ever go there were some costumes that made my jaw drop. From girls and guys alike. A few too many Michael Phelps'! We got home around 2 from our adventures and decided to have our first Macbook photo sesh of the year. It turned into a music vid sesh. Yeah, it's as good a it sounds. We went out in our stairwell outside our apartment and put Syd's Macbook on a stool and went at it, it's so hilarious. Atleast we think so. Here's the web address for the youtube link to it:
http://www.youtube.com/watch?v=HxRij2OmhI4
Here's some pictures of our Halloween hotness: "Oh look, it's sweet thang 1 and saweet thang 2!"
Laura and Lauren are SO emo
Story: Ziggy and Andrew are from Kenya and pretty much the coolest kids EVER! They were so obsessed with us, seriously, they thought it was so funny. I said to Syd, "It's so funny, because the Kenyans know about the Dr. Seuss books, when a couple whitey's here haven't even "known what we are." "Nah, I think they just think it's hilarious that we're things." "Yeah, you're right." Ziggy was laughing so hard, "Ha, I want a picture with the things! There are two things!"
Me, Whitters and Syd
Syd and I shopping for some supplies
Me, Dani and Syd cheerin on Jordan at his game. There was this really tough guy that threatened to hit me, I think he was jealous of my costume. You think I'm kidding but he was really mad.
@ the Riv
Some more Riv hopping
Props to deej for this one
Emily, Lindsey, Rachel, Cheetah girl, Katie, Brooke, Syd and Me
Happy Halloween! xoxo